Explosion Piece, black acrylic planes, 2010
Manimal, black and white video animation, 5:30min., 2005
Dark Mirror, black resin, 2008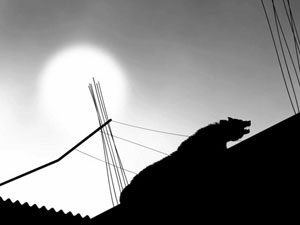 Carlos Amorales's solo exhibition at Herzliya Museum of Contemporary Art spans three of his pivotal works. The video Manimal was created by 3D animation techniques with wholly flat, two-dimensional forms. The work is based on a database of digital images called Liquid Archive which Amorales has been constructing since 1999. Originating from his own drawings, he uses this reservoir of images to implement many of his works. The images–forms devoid of scale and medium, sharp black silhouettes based on formal and symbolical archetypes, which disallow individual identification-turn out to be silhouettes of human figures, skulls, animals, birds, insects, spider webs, trees, buildings, and various sites. These images, which are cornerstones in the artist's visual vocabulary, are variously intersected in the work process, and the tension between the arbitrary and the premeditated dimensions in their mode of intersection generates internal conflict, enhancing the potential of alertness and horror upon viewing. In addition, the work is accompanied by a dominant, rhythmic and repetitive soundtrack (by Julián Lede), which is occasionally interrupted by processed squeaks or screeches, and which transpires simultaneously to but independent of the motion of images or the camera movement.