Keshet Award for Contemporary Art, founded by the Bar-Gil Avidan Family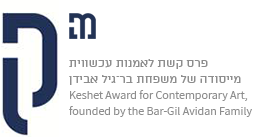 Keshet Award for Contemporary Art founded by the Bar- Gil Avidan family. The Keshet Award Foundation intends to present at the museum an exhibition by an Israeli artist every two years, over a period of ten years, to be curated by an international curator, in a bid to foster a significant dialogue between them. We hope that this will lead to the forging of cultural bridges and new professional ties, thereby supporting Israeli art. The Keshet Award for Contemporary Art is the first prize to be awarded by the Herzliya Museum of Contemporary Art, and we are most grateful to Keren Bar-Gil and Ran Avidan for their generous and significant donation.
Keshet Award 2018
Herzliya Museum of Contemporary Art is delighted to announce the winner of 2018 Keshet Award for Contemporary Art founded by Bar-Gil Avidan Family – artist Hila Amram.
A professional committee selected the shortlisted artists. The committee members are:
artist Prof. Deganit Berest, chief curator at Ashdod Museum of Art Yuval Beaton, artist Prof. Sharon Poliakine, curator Dr. Roy Brand and Keren Bar-Gil, founder and donor of Keshet Award. Dr. Aya Lurie, director and chief curator at Herzliya Museum of Art, is the committee's chairwoman and co-curator. Vered Gadish is the coordinator and producer of the Award.
The 2018 Keshet Award's guest-curator is Dr. Małgorzata Ludwisiak, director of the Center for Contemporary Art Ujazdowski Castle in Warsaw. Previously Małgorzata was the deputy director of the Muzeum Sztuki in Lodz. She is an art historian, an art critic and a curator of dozens of solo and group exhibitions. She was the artistic director of 2006 Lodz Biennale and chief curator of festivals and international contemporary art events in Poland and beyond.
In mid March 2018 Małgorzata Ludwisiak conducted a series of in-depth studio visits in Israel to the shortlisted artists and eventually selected Hila Amram and her proposed project for the second Keshet Award. The winning project combines research of nano marine biology together with hackers' world and its pirate existence online. This subject-matter is relevant to the guest-curator own research.
Keshet Award aims to expand and extend the support of Contemporary Israeli Art through a significant dialogue between a promising Israeli artist (up to 45) and a noteworthy international curator that will lead to a solo exhibition at the Herzliya Museum of Contemporary Art in 2019 followed by an exhibition overseas.
Winning artist Hila Amram (b. 1976), works and lives in Tel Aviv. Holds BFA from Bezalel Academy of Arts and Design and certified studies from Beit Berl College. Hila exhibited solo and group shows in Israel and abroad: in Tel Aviv Artists Workshop, Museum for Israeli Art – Ramat Gan, Petach Tivka Museum of Art, Dana Art Gallery in Kibbutz Yad-Mordecai, State Darwin Museum in Moscow, Glass Museum in Venice. Amram won a scholarship by America Israel Cultural Foundation, grant by Mifal HaPais Council for the Arts and Culture, a grant by the Yehoshua Rabinovich Foundation for the Arts.
Keshet Award 2017
A professional committee of artists, curators, and scholars has selected ten artists as candidates for this year's prize. The committee members include the prize's founder and donor, Keren Bar-Gil; the curator Yona Fischer; the artist Prof. Yitzhak Livneh; the artist Zoya Cherkassky; and the art researcher and curator Dr. Yael Guilat. Following visits to the candidates' studios and indepth conversations with them, the curator Louis Grachos finally chose Guy Goldstein and his proposed project for this first exhibition. Much to our delight, the connection between the artist and the curator has also resulted in an invitation extended to Goldstein to exhibit his works at The Contemporary Austin in 2019.
Guy Goldstein was born in 1974, and lives and works in Tel Aviv. He has a bachelor's degree from the NB Haifa School of Design and a master's degree from the Bezalel Academy of Arts and Design, Jerusalem. Goldstein is known as a sound and installation artist, whose unique language translates, through innovative technological means, visual image into sound and vice versa.
The curator Louis Grachos has had an extensive career in the field of contemporary and modern art in the United States. He has curated exhibitions for many artists, including Clyfford Still, Sol LeWitt, Chuck Close, and Francis Bacon, and among contemporary artists Monika Sosnowska, Jim Hodges, Ryan Gander, and many others.
He served as the director of the Albright-Knox Art Gallery in Buffalo, New York, and SITE Santa Fe, New Mexico. In his current position as the director of The Contemporary Austin he has spearheaded its significant development and expansion.