Oct. 3, 2009 - Oct. 10, 2009
1976, Tel Aviv
Lives and works in Tel Aviv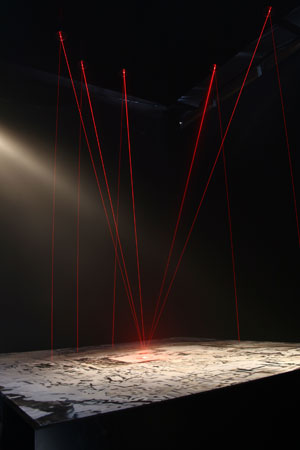 The Tomb of the Prophecy of the Rock, Multi-media installation with Laser component, 2009
The installation suggests a narrative of an enigmatic prophetic rock which was anonymously carved in an unknown, mysterious location.
To some degree, the piece is a parody, satirizing the way in which archeological landmarks, holy tombs and relics are mythologized and mystified by those maintaining them, and the profound impact they have on the flocks of international visitors and believers who regularly visit them in pilgrimages.
The work is a kind of primitive model of specific burial ground which is surrounded by a Temple. It relates to prophetic passages in the books of Ezekiel, Isaiah and the Sura Al-Qiyamah. The laser beams signify the spirits rising up to the heavens and penetrating the rock situated within the Al-Aqsa Mosque.