Aime Ntakiyica

| A Collective Diary

Curators: Simon Njami & Mikaela Zyss

Jan. 9, 2010 - Apr. 4, 2010

WIR (We), photographs, 2001
Srulik Remix, photograph, 2009
Cocoon, installation, 2009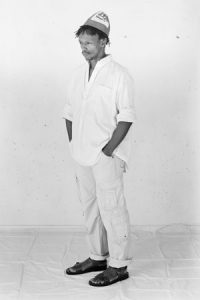 Although he arrived in Belgium from his native Burundi at the age of three, Ntakiyica never became a Belgian citizen. His works alter spaces and create new ways of seeing old spaces. They are essentially site specific. In his work he likes to play with concepts of ubiquity.
WIR (meaning "we" in German) is a critique of the dualism that constitutes the Western tradition that tends to dominate that which is different or other, and uses the other to reflect its own image.