Cristina Lucas

| The Centre Pompidou New Media Collection

Curators: Christine Van Assche, Ghila Limon

Nov. 27, 2010 - Jan. 22, 2011

Pantone – 500 + 2007, 2007, multimédia installation, 15:00 min.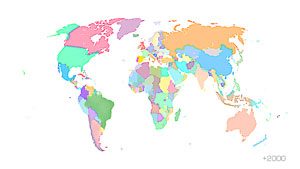 Pantone, Inc. is a widely-known company that has created a standardized, international system for making and communicating color choices. Cristina Lucas's Pantone is an animated film that uses color to map the world's changing political history, from 500 BCE to 2007.