Feb. 12, 2011 - May 28, 2011
Rize, 2005, documentary film, 86 min.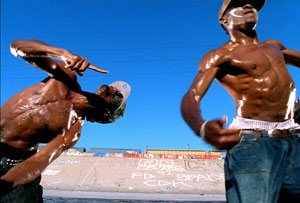 This first film by David LaChapelle, a photographer and director of music videos, documents the krumping and clowning dance subculture in South Central Los Angeles – an area that has been the site of numerous tragic events and riots. These dance moves constitute a stunning display of acrobatic feats, which are performed by colorfully made-up and costumed dancers. The protagonists of this film use dance as a means of releasing tension, escaping their difficult everyday lives, and giving public expression to intense emotions. The rapid, mesmerizing movements function as a form of protest in the context of a harsh reality. LaChapelle brings together interview excerpts, documentary footage and stylized footage of the dancers to create an energetic pop work.