El Anatsui

| A Collective Diary

Curators: Simon Njami & Mikaela Zyss

Jan. 9, 2010 - Apr. 4, 2010

Crumbling Wall, sculpture, 2000
Area B, installation, 2007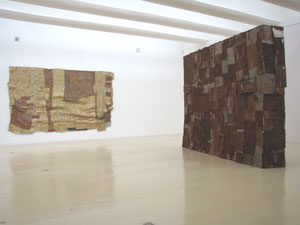 Taking the spectrum of indigenous African cultures as an extended canvas, Anutsui's work concerns the survival of inherited traditions and their erosion by powerful external forces. His work represents a synthesis of the many diverse histories of African art with more modern influences of contemporary Western art.