Eyal Gaziel

| it'sme: auto/biography

Curators: Joshua Simon and Dalia Levin

Sep. 24, 2005 - Dec. 24, 2005

Childhood Memories, 2005, photographs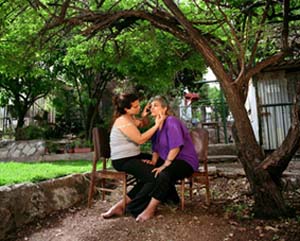 Eyal Gaziel presented the current series in the early summer as part of the graduates' exhibition of the Photography Department at the Bezalel Academy of Arts and Design, Jerusalem. Gaziel was born and raised in Kiryat Tivon, in a nameless neighborhood. The series of photographs is based on his childhood memories interlaced with the memories of his mother and father who lived in the place when it was still a transit camp. Gaziel documents the people who play themselves in staged photographs: the weeping child, mad Herzl, Tikva who waits by the side of the road, a father cutting his son's hair, children by the steps of a house, a funeral procession waiting to set out.