Fahed Halabi, Ala Farhat

| Men in the Sun

Curators: Tal Ben Zvi and Hanna Farah - Kufer Bir'im

June 13, 2009 - Sep. 13, 2009

Video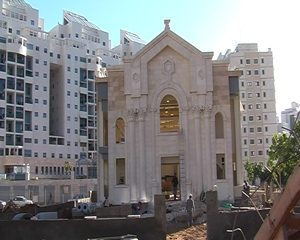 Fahed Halabi and Ala Farhat are Syrian artists whose joint artistic practice is based on their work in the past decade as construction workers, day laborers, and contractor workers. The video Working Day (2009) describes a workday in the building site of the stately Georgian Synagogue in Ashdod. The video artists, Halabi and Farhat, specialize in the construction of columns which follow the Ionic and Corinthian orders, in classical Greek or Roman style, reeding and fluting the columns. The new building, with the Star-of-David at the façade, is decorated with tall pillars, standing out as deviant against the backdrop of Ashdod's neighborhoods.