Itamar Jobani

| The Rear

Curator: Joshua Simon | Artistic Director: Dalia Levin

Sep. 23, 2007 - Dec. 15, 2007

Dam Adam Adama (Blood Man Earth), 2007, video installation
Narcissus, 2007, interactive video installation
Invalid Topography, 2007, sculpture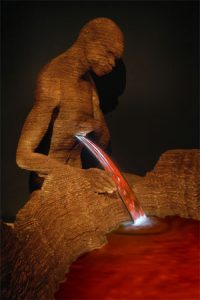 Itamar Jobani's sculptures compose scenes of a mythical nature – simultaneously primeval and apocalyptic. At first glance the sculptures look like stone sculptures, reminiscent of figures in the art of ancient east. Approaching the sculptures one can see that underneath the red soil coating, the figures are constructed like topographic models, merging in the rocky landscape next to them. The monolithically – physical as well as conceptual – of sculptures made of stone, is transformed into the modular mobility of scientific models and virtual projections.