Sep. 4, 2010 - Jan. 8, 2011
Duet for a Flame and a Boy, 2010, video, 5:30 min.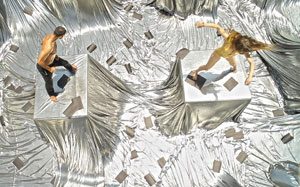 The work is based on Freud's text, appearing in his book "The Interpretation of Dreams", about a father who had fallen asleep next to the body of his child, who had just died. In the father's dream, the child stands besides him and whispers: "Father, Can't you I'm burning?"
The work examines the moment in which reality raptures the sleeping defense mechanism. The external reality – in this case a disaster – seeks entry, and correlates with the internal events of the nightmare on the one hand, while the dream on its part turns out to be not a symbolic story, but rather the direct representation of the external reality.