Scandar Copti, Rabia Buchari

| Men in the Sun

Curators: Tal Ben Zvi and Hanna Farah - Kufer Bir'im

June 13, 2009 - Sep. 13, 2009

Video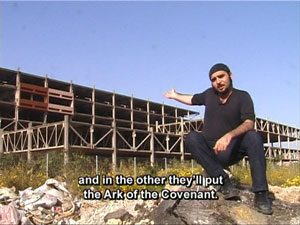 In Scandar Copti and Rabia Buchari's video piece Truth (2003), two Palestinians from Jaffa visit non-touristy sites in the city, recounting the "history" of the place as if they were tour guides. The text is a fictive narrative ostensibly anchored in that which is seen on the surface. Thus, for example, next to a deserted structure, a debate evolves over the Temple and the location of the Tables of the Covenant in the structure's windows; in Jaffa's old Muslim cemetery, al-Kazachana, the camera wanders between the gravestones and on the cliff overlooking the shore, while the background dialogue revolves around the nature of the dead buried there; in a refuse dump by the beach a discussion takes place about the "vodka plant" growing in the Jabalyyah beach and the Donolo A alcohol factory; and next to the water tower an argument begins over identification of the building as the Messiah's "Holy Grail." Jaffa Port, the cemetery, the water tower, and the deserted building are ironically depicted by Copti and Buchari as sites of historical significance.