William Adjété Wilson

| A Collective Diary

Curators: Simon Njami & Mikaela Zyss

Jan. 9, 2010 - Apr. 4, 2010

Black Ocean, installation, 2008-9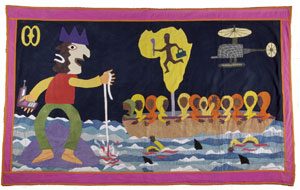 Prior to his first visit to Benin just before his 18th birthday, William Adjété Wilson had very little contact with his African family and was astonished to feel like a foreigner there. His personal history emerges at the point where world history meets the history of art. His history began when he met his great-grandmother Princess Lawson, aged 94 at the time, and his grandmother Helen d'Almeida, a fabric merchant in Cotonou – a Ouidah native and descendant of slaves who was freed in Brazil and returned home early in the 18th century. In the West it was the Enlightenment, in Africa the darkness.