Yossi Atia & Itamar Rose

| No-Nonsense – VideoZone

Curators: Antonio Geusa and Dalia Levin

Dec. 6, 2008 - Feb. 14, 2009

Missiles in Ramat Gan, 2006, video 3:04 min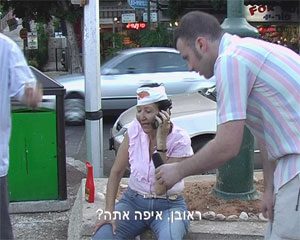 Yossi and Itamar masquerade as news reporters from some marginal, low-budget channel, trying to prepare an advance report about missiles falling on the city of Ramat Gan, in anticipation of a possible escalation in the security situation in Israel. They ask citizens to collaborate with them and pose as eyewitnesses. Initially shocked, people soon cooperate, reconstructing "authentic," familiar, and hackneyed reactions to the situation, thus creating a parody which examines the role of the media in structuring and interpreting reality.