Jan. 21, 2012 - Apr. 28, 2012
Carlos Bunga, Lamp, 2002, single-channel video, color, sound, 1:34 min.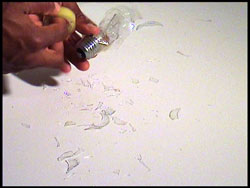 In this poetic video work, Carlos Bunga performs an action that we would normally view as irreversible: he shatters a light bulb with the sharp blow of a hammer. As the broken shards of glass scatter and fall, the action seems to be accomplished, and the boundary, or limit, between "before" and "after" seems to have been irrevocably crossed.